Sunday Reads #99: Good Questions
And thoughts on hiring great people, and cool goings-on in consumer AI.
Hope you and yours are keeping safe.
I'm back again with the most thought-provoking articles I've read in the week. (in case you missed my newsletter last week, you can find it here: Sunday Reads #98: Laws and Fallacies)
This week, we first take a look at some great questions. Questions are more powerful than answers, and the right questions can cut right through a thorny problem.
Next, we look at a few thoughts on hiring great people.
And last, some fun stuff - is consumer artificial intelligence still a "toy"?
Here's the deal - Dive as deep as you want. Read my thoughts first. If you find them intriguing, read the main article. If you want to learn more, check out the related articles and books.
If you like what you see, do forward to your friends. They can sign up with the button below.
[PS. this is the first time I'm sending via Substack. So do move the email into Inbox if it is in the "Promotions" or any other folder of your mailbox.]
---
1. Great Questions.
Questions are far more powerful than answers.
They frame the conversation. After all, you can only answer questions that are asked.
The right question takes you right to the essence of a problem, and helps you solve it.
For example, asking a startup what their defensibility is, is far more useful than asking them about the addressable market size.
The wrong question can waste years.
"What cool feature should we build next?" is the wrong question, when your onboarding funnel itself is leaky.
Speaking of questions, I re-read Testing The "Impossible": 17 Questions That Changed My Life (#206) from Tim Ferriss this week.
Some of the questions that resonated with me (which I hurriedly added to my Good Questions page on Roam):
What are the worst things that could happen?
We never think through our worst fears. We think about them a lot, but they're too scary to think through in any detail.
But when we do examine them, when we meditate on the fear, two things can happen:
One - As we think about what we'd do in that situation, it becomes less scary. A friend of mine worried about what she'd do if someone in her family got COVID, with two very young children. But once she'd planned what exactly she'd do (including which parent in charge of which kid, and so on), it became less scary.

Two - The more you think about something, the less scary it becomes. Something that you're familiar with doesn't scare you as much. Even if you can't think of a solution.
For a facile example, see this Twitter thread about overcoming fear of cockroaches through deliberate exposure.
Tim Ferris calls this "fear-setting". The ancient Roman Stoic Seneca calls it premeditatio malorum. The premeditation of the evils and troubles that might lie ahead.
What is quite unlooked for is more crushing in its effect, and unexpectedness adds to the weight of a disaster. This is a reason for ensuring that nothing ever takes us by surprise. We should project our thoughts ahead of us at every turn and have in mind every possible eventuality instead of only the usual course of events…

Rehearse them in your mind: exile, torture, war, shipwreck. All the terms of our human lot should be before our eyes.
If I could only work 2 hours per week on my business, what would I do?
Substitute "2 hours per week" with something reasonable for you. It could be "8 hours per day".
Once you set up this forcing function, you separate the essential from the expendable.
As Ferriss says,
I began making changes: "firing" my highest-maintenance customers; putting more than 90% of my retail customers on autopilot with simple terms and standardized order processes; and deepening relationships (and increasing order sizes) with my 3 to 5 highest-profit, lowest-headache customers.
Do I need to make it back the way I lost it?
Warren Buffett says this too. To quote him:
A very important principle in investing is that you don't have to make it back the way you lost it. In fact, it's usually a mistake to try to make it back the way you lost it.
In the same way, if you invested in a bad stock and lost some money, you don't have to make it back in the stock market. If you put more hours into your unrelated job and get a pay raise. you've made it back.
What would this look like if it were easy?
This is an extension of the saying "perfect is the enemy of the good".
When you try and do the easiest version of something, you get moving.
Like sending a newsletter curating articles is so much easier than writing a new blog post every week.
So when you ask this question, you ship. You remember, your Minimum Viable Product can be more minimum than you think.
---
A few other questions that I have found helpful, especially in relationships.
(Disclaimer: I'm still not very good at them).
"How am I complicit in creating these conditions that I say I do not want?"
What am I not saying that needs to be said.

What am I saying that's not being heard.

What's being said that I am not hearing.
[Source: Tim Ferriss podcast with Jerry Colonna.]
"How would I behave if I really wanted these results?"
[Source: Crucial Conversations, a GREAT book on having conversations with high emotion and disagreement.]
"What would I feel in the opposite person's position?"
[Source: A simple rule that I heard from close friends last week.]
---
2. On Hiring.
I wrote an article a few weeks ago, on Hiring Great People.
And as if on cue, I came across three new articles, that I've added to my "hiring stack".
Keith Rabois, on How to Interview an Executive.
This article has some great tips to keep in mind when interviewing.
One concept I found powerful is the framing of value creating vs. value protecting. Which kind of role are you hiring for?
As Delian Asparouhov says in the article, citing Keith Rabois:
First identify whether the open role is value creating or value protecting. If it's value creating, focus on ideas they've taken from start to finish even if they aren't related to the role. If it's value protecting, focus on whether they have lots of prior domain expertise related to the value you expect this role to protect.

For a value creation role, you want an ambitious risk taker. You should be thinking "this person could be mediocre, but there's also some chance they become the most important person at my company". You do not want to have zero-defect hiring for value creators. If you don't make at least some mistakes in your value-creation hiring, then you are not taking enough risk on the candidates you bring in.

Value protection on the other hand is exactly the opposite. If you are hiring your CFO two years before you plan to go public, then you almost certainly want a CFO that has taken a company public before, or has reported to a CFO that has taken a company public. The person you are hiring should be calculated and conservative, with extensive experience doing exactly what you are asking them to do. Here you want to aim for zero defect hiring.
Importance of High Agency as a personality trait in hiring.
George Mack has a great thread on Twitter:
As he says, high agency is about the story you tell yourself. Do you repeat stories others tell you, or is it a story you control?
When someone tells you something is difficult or impossible, what are you thinking?
Are you thinking "OK, let's move on"? Or are you thinking of ways to still make it happen?
Ankur Warikoo on finding great candidates.
Another Twitter thread, this time from Ankur Warikoo, co-founder of Nearbuy:
One thing I found useful in the thread is how he filters down to the most likely candidates for a role.
He sends a standard set of questions to every candidate.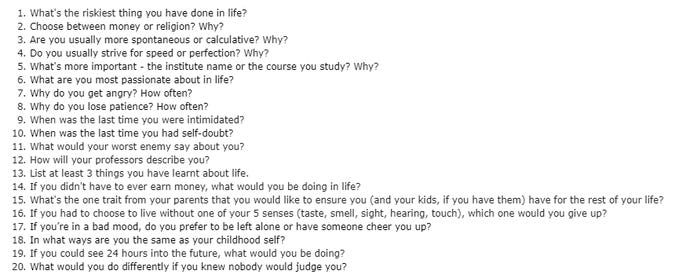 Most candidates would not make the effort to reply, self-selecting themselves out of the candidate pool.
And for the 20%-30% who would reply, he would know a lot more about their drive and curiosity. Making the interview that much richer.
Using these questions, Nearbuy has hired over 1000 people in the past 7 years, with a recruiting team of 3. Stunning!
---
3. On a different note…
I had a chat with two old friends yesterday regarding consumer AI, and whether it's still a "toy".
Well, people were already using GPT-2 to generate class assignments, as I shared in a previous edition of Sunday Reads:
Its successor, GPT-3, is MUCH better still. It can't pass coding interviews just yet, but it's getting damn close!
I would fail the Turing test against this for sure.
Soon, the words "AI programmer" might not be synonymous with "hotshot (human) coder".
---
That's it for this week! Hope you liked the articles. Drop me a line (just hit reply or leave a comment through the button below) and let me know what you think.
Thanks!
Jitha